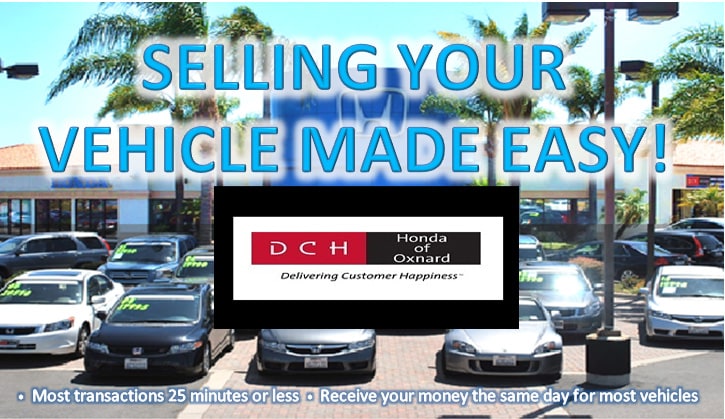 We will buy your car whether you buy one from us or not.
Often people feel that selling a car by themselves can earn them more money. Sometimes this is true, but often it's not. 
There are many costs and inconveniences associated with selling a vehicle, including: 
Reconditioning, to get your vehicle back into shape 

Advertising your vehicle 

Meeting strangers, and needing to rely on them for payment 

Going to the DMV to complete all necessary documentation & fees (title transfer; smog certification; release of liability; use tax and/or various other fees) 
As a dealership, DCH Honda of Oxnard has the ability and know-how to take care of these inconveniences for you, as well as paying off your car, even if you owe more than the vehicle is worth. 
Best of all, it takes only a 20-30 minute appointment to inspect your car and provide you with a firm offer - valid for up to 5 days.
We buy cars that are damaged, perfect, old, or nearly new -- and not just Honda's! Almost every make, model and year; you name it and we'll be happy to take a look at it to see if it meets our current inventory needs. With above-average credit and high trade-in values offered by DCH Honda of Oxnard, there is always an opportunity to purchase with little to no money down on approved credit, and with a payment plan sure to fit your budget.